Discover more from Future Southeast Asia
Transport and urban development in Southeast Asia. Dispatches from my travels in the region, and news about future city development, transport, and infrastructure.
News: 16 November 2022
Lastest Post: Hue Tramway. News: Jakarta LRT and MRT news, multi-billion dollar resort planned near Vientiane, Bangkok water transport plan, and more
Greetings from Chiang Mai! I've spent a lot of time in this city but I don't usually write about it. It's more of a place I go to get work done.
I will have a look around to see if there are any projects of note to report on. There is the Chiang Mai transit system that has been proposed since the early 2000s. It was featured in the newsletter earlier this month when it was announced they want to introduce rubber-tyred trams (which sounds more like a bus 🤔).
Future Southeast Asia is a reader-supported publication. To receive new posts and support my work, consider becoming a free or paid subscriber.
The traffic in Chiang Mai can be terrible outside the old city, so I don't see how a bus-tram will solve any problems. I went to Nimmanhaemin Road yeaterday, which is a traffic hotspot. They happen to be building a "Little Tokyo" on the main intersection, and there is a replica of a Tokyo subway entrance. There is not even an underpass there. It just sits there to remind you that is is no urban transit system in Chiang Mai.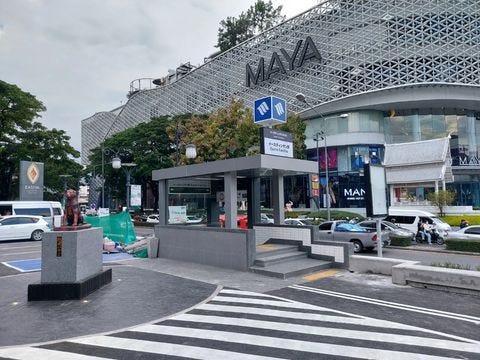 Here are this week's picks for news about transport and urban development in Southeast Asia.
Latest posts at Future Southeast Asia
The Hue Tramway project was proposed this year, though it barely made the local news. I've set up a fact sheet to start collecting any information about it. This is another city added to the list of urban rail transit proposals in Southeast Asia.
G20 in Bali
Today is the second day of the G20 Bali Summit. I don't cover SE Asia politics, though I will scour the news reports for any infrastructure announcements. For regional politics, follow Dari Mulut ke Mulut.
It is Joko Widodo's moment in the spotlight, so here is his profile in the NY Times:
"The Indonesia president, who has kept his focus close to home, is seeking a bigger role on the global stage, albeit with a domestic agenda. His next big test: the G20 summit."
News
• China puts Belt and Road back on ASEAN agenda
• Chinese EV makers eye Southeast Asia as competition escalates
🇰🇭 Cambodia
• 'Why do we have no rights?': Phnom Penh lake community make a last stand against developers
• Prek Tnaot River declared hazardous to people's health
🇮🇩 Indonesia
• S. Korea, Japan, the United Kingdom to partake in Jakarta's MRT project
• New Jakarta LRT route projected to reduce Manggarai Station congestion
• Firms behind Indonesia's high-speed rail seek another US$1 billion loan from China
[Updated: Jakarta-Bandung High-Speed Railway]
• Indonesian president officially opens new airport buildings in Bali
• Minister of PPN and governor of Bali discuss LRT development acceleration
[Updated: Bali Railway]
• Indonesia's capital shift to Nusantara reflects its growing strategic, economic power projection ambitions
[Updated: Nusantara]
• Indonesia to go ahead with Dumai-Melaka RORO ferry project to increase connectivity
🇱🇦 Laos
• South Korean company authorized to build multi-billion dollar resort
• Construction of railway training college 70 percent complete
• Government expresses concern over rapid urban development
• Are Laos' new railways a solution to its lack of trade with the West?
🇲🇾 Malaysia
• Malaysia GE15: Penang's controversial land reclamation project weighing on voters' minds
[Updated: Penang South Islands]
• Preserving heritage architecture in Kuala Lumpur
🇵🇭 Philippines
• Panay-Guimaras-Negros bridge inches towards reality
• Construction of NMIA in Bulacan in full swing
[Updated: New Manila International Airport]
• DOTr clarifies MRT-3 'not for sale'
• Malolos-Tutuban rail contract bagged by Japan's Hitachi Rail
🇸🇬 Singapore
• Tanah Merah MRT viaduct may be turned into elevated green corridor when decommissioned in 2026
• Stations buzzing on first day of operations for third stage of Thomson-East Coast Line
• Walk in the park: New nature reserve in Singapore features a former quarry and a 31 meter-tall deck
🇹🇭 Thailand
• Bangkok to restore 'Venice of the East' with THB5.5bn water transport plan
• MuvMi's electric tuk-tuks want to change how Bangkokians get from A to B
• Locals want high-speed rail crossing plan revised
🇹🇱 Timor-Leste
• ASEAN leaders' statement on the application of Timor-Leste for ASEAN membership
🇻🇳 Vietnam
• Vietnam urged to get China-backed railway project on track, avoid 'missed opportunities' despite concerns
[Updated: Lao Cai-Hanoi-Hai Phong Railway]
• What is slowing down Vietnam's transport infrastructure projects?
• US$8.5 billion needed for metro line projects in Ho Chi Minh City
• Experts divided on 250-kph transnational railroad
[Updated: North–South express railway Vietnam]
• Khanh Hoa issues master plan for Nha Trang Bay restoration
Future Southeast Asia is a reader-supported publication. To receive new posts and support my work, consider becoming a free or paid subscriber.