Discover more from Future Southeast Asia
Transport and urban development in Southeast Asia. Dispatches from my travels in the region, and news about future city development, transport, and infrastructure.
News: 7 September 2022
Latest Post: 10 New Balis. News: Bali Railway, Jakarta-Bandung fast train to operate from June 2023, 3 Bangkok MRT lines close to completion, Korean-invested complex breaks ground in HCMC, and more.
Greetings from Bali! This my first time back since 2019, and it is my first time here looking for stories for Future Southeast Asia.
I'm staying near the beach so I did the obligatory beach photo for Instagram this morning. I am here though to research about traffic and transport, so I will be seeing more roads than beaches.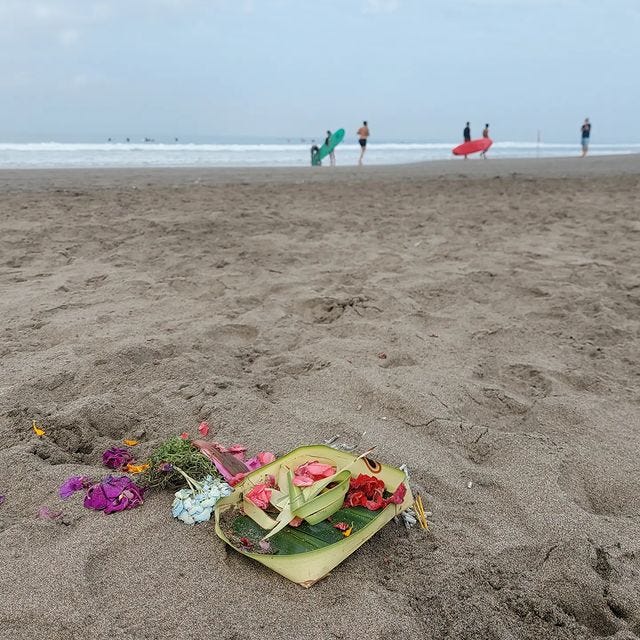 While I am here I will be expanding the newsletter for paid subscribers. The current format will remain the same (this free weekly news round up, plus the weekly article at futuresoutheastasia.com). The new section will be blog and editorial style, commenting on things I see in my travels, and expanded editorial on news items. I'm still working out the best time of week to publish, and how often (weekly or fortnightly), but these details will become clearer once I get started.
Here is this week's roundup of news related to construction, transport, and infrastructure in Southeast Asia.
Latest Posts At Future Southeast Asia
News
• Hostage of fortune: Southeast Asia's development model needs a reboot
• Emerging free trade zones in Southeast Asia
🇰🇭 Cambodia
• Government gives priority for Phnom Penh subway train
[Updated: Phnom Penh Metro]
• Siem Reap, reinventing the arteries of Angkor
• Ensuring Cambodians' mobility amidst rocketing fuel prices
'• It can be pretty horrifying': how Cambodia's land grabs are ruining lives
🇮🇩 Indonesia
•Bali plans electric train connecting Ngurah Rai Airport to Seminyak
[Updated: Bali Railway]
• Ministry targets Jakarta-Bandung fast train to operate from June 2023
[Updated: Jakarta-Bandung High-Speed Railway]
• Indonesia, France discuss cooperation in Surabaya high-speed railway system
• Australia, Indonesia launch construction of sustainable infrastructure for most vulnerable in global research trial
• Bali targets net zero by 2060 with roll out of electric moped initiative
• Jakarta, Indonesia's megacity | Saving earth's second largest city
🇱🇦 Laos
• Lao villagers reject offer for land lost to 'Smart City' project
🇲🇾 Malaysia
• Kelantan's ECRL project in steady progress, says Dr Wee
[Updated: East Coast Rail Link]
🇲🇲 Myanmar
• North East railway project linking Myanmar border to be revived soon
🇵🇭 Philippines
• Marcos adviser strikes deal to take over Philippines' Cebu airport
• Solon welcomes P114-B funding for PH's railway modernization
• Philippine reclamations: How business and nature collide
• CDIA-supported heritage market redevelopment in Iloilo City up for implementation
🇸🇬 Singapore
• Singapore open to fresh proposals from Malaysia on discontinued High-Speed Rail project, says Lawrence Wong
[Updated: Kuala Lumpur–Singapore High-Speed Rail]
• More wealthy Chinese moving to S'pore as China becomes more hostile to the rich: Financial Times
🇹🇭 Thailand
• Full steam ahead for high-speed trains
• 3 Bangkok MRT lines – Orange, Yellow, Pink – very close to completion
• Bangkok gets tough with motorcyclists riding or parking on pavements
• Professor says Bangkok predicted to sink by 2100
🇻🇳 Vietnam
• $856-mln Korean-invested complex breaks ground in HCMC urban area
[Updated: Thu Thiem Eco Smart City]
• Hanoi to have new international airport, ring roads
• Nostalgia for historical Saigon-My Tho railway
[Updated: Mekong Delta Railway]
• Journalist's report leads to tighter oversight of illegal sand mining in Vietnam
• Boeing plans to work with Vietnamese suppliers as it expands operations