Discover more from Future Southeast Asia
Transport and urban development in Southeast Asia. Dispatches from my travels in the region, and news about future city development, transport, and infrastructure.
Da Nang construction report
An update from Asia Pacific Rail 2022 in Bangkok, and the latest news on construction, transport, and infrastructure in Southeast Asia.
Greetings from Bangkok! It turns out that a required visa run from Vietnam timed perfectly with Asia Pacific Rail 2022. This is my first conference event since 2019. It's been good to see maps of the projects I have been writing about, but it also makes me a bit mad to see the celebration of the mixed-gauge mess of Thailand's railways.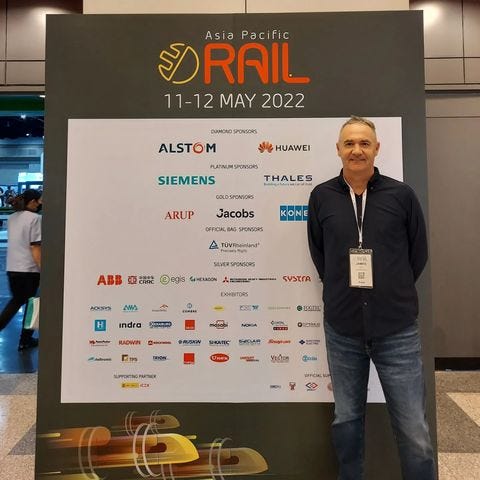 This week I have published a construction report from my visit to Da Nang last week. I will have some new rail articles coming up soon.
Latest Posts At Future Southeast Asia
Da Nang construction update – 2022 edition
News
🇰🇭 Cambodia
• Construction begins in Cambodia on new $1.5B port built by China
• Sihanoukville pays the price for heavy reliance on Chinese
• Blocked canals worry residents as rainy season sets in
🇮🇩 Indonesia
• Admits the price of train made by INKA is more expensive than imports, KAI boss ensures that it does not burden the community and state Finances
🇱🇦 Laos
• New expressway to link Houaphanh Province with Vietnam
🇲🇾 Malaysia
• Dr Wee: ECRL tickets will be affordable, priced like KTMB fare
[Updated: East Coast Rail Link]
• Butterworth squatters get free homes costing RM60,000 each
I've been following the issue of resettlement along the railway line in Bangkok and the canals of Ho Chi Minh City, so this example was of interest.
• 'Surprise' urban Malaysia floods drive pleas for climate action
🇲🇲 Myanmar
• Boring complete for super-long tunnel cluster on China-Myanmar railway
This would form part of the Muse-Mandalay-Kyaukphyu Railway.
🇵🇭 Philippines
• Here's our transportation wish list for the next PH government
🇹🇭 Thailand
• Thailand approves four new special economic corridors
• Hotel developers in Thailand have put 3 of 4 projects on hold
🇻🇳 Vietnam
• Last trains arrive for first Saigon metro
• Largest onshore wind farm of the Mekong Delta inaugurated
• At Thủ Thiêm 2 Bridge's launch, exuberance and selfies galore
[Updated: Thu Thiem 2 Bridge]