Discover more from Future Southeast Asia
Transport and urban development in Southeast Asia. Dispatches from my travels in the region, and news about future city development, transport, and infrastructure.
Danang to Yangon by train
The East–West Economic Corridor Railway from Myanmar to Vietnam, street mosaics in Hanoi, and a record night for construction in Bangkok.
Welcome to the subscriber-only weekly newsletter of Living In Asia. I'm still in Ho Chi Minh City, because I can't go anywhere else in these lockdown days. At least things are under control here. Vietnam has not recorded a new COVID-19 case for 5 days now, and there are talks of easing lockdown restrictions this week.
Meanwhile in Singapore (usually the model nation of Southeast Asia), things have taken a turn for the worse with thousands of new cases. An article in the Washington Post has thrown the spotlight on migrant workers who build this great city but live in cramped dormitories.
It's too early to speculate on when travel will resume a limited service, let alone any kind of normality. Vietnam is looking to increase domestic services this week, and it might be that travel is restricted to domestic travel for a while.
Emirates are rapid-testing passengers for coronavirus before flights, so the new normal might be to get to the airport 5 hours before your flight so you can have a cotton bud stuck up your nose. The Czech Republic's President wants the Czech border to remain closed for at least another year. There is no such suggestions in Southeast Asia, but domestic travel might be the first steps in rebooting the tourism industry to start with.
It's also too early to speculate on how the pandemic will affect ongoing construction and infrastructure projects.
There was an article doing the rounds this week by Marc Andreessen called It's time to build. While not related to Asia, the same theme can be applied to the region. I mentioned last week how Singapore is renovating its airport and has committed to spending billions on transport infrastructure. Big project spending by governments will be needed to soften to coming economic blow.
In the related news below there it's a mixed bag of projects being delayed and projects still being committed to.
Latest posts at Living In Asia
The East–West Economic Corridor Railway from Myanmar to Vietnam
While I was compiling information for the current and proposed railways of Southeast Asia, one of the most interesting proposed routes I found is the East-West Economic Corridor.
The EWEC is a proverbial land bridge that would shorten shipping time by sending it overland rather than around the Malay peninsula. Part of the plan included building a railway between the ports at each end.
While there isn't a unified plan to build a single railway across this landmass, the four countries have been independently planning a railway for their section of the route.
Amazingly, Laos was on the cusp of starting their section, with a groundbreaking ceremony to declare the start of construction. This promotion video shows what a Laos Railway might look like.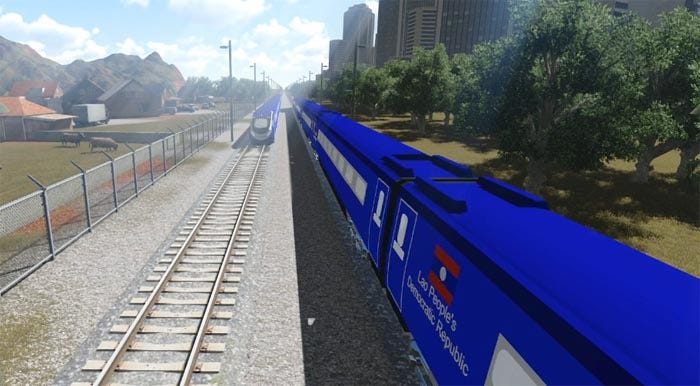 If this was built it would then be possible to travel from Da Nang to Yangon by rail. It would be like the old days of European rail travel, where you would have a single rail journey that passes through multiple border crossings (for example, the Paris to Budapest service travels through four countries).
It would be unlikely that there would be a single train trip like that. It would be more likely to be rail companies of each country. It would be a great way to see different parts of mainland Southeast Asia, so stopping along the way would make for a better trip.
International railways in Southeast Asia have gone backwards in the last decade. The classic Bangkok to Butterworth (Penang) train is no more, and the direct Singapore to KL train requires three trains to make the trip. Things will improve once the new central station at Bangkok is finished, and the China-Laos railway is running. You could then go to the new Bang Sue Station and see Vientiane and Kunming on the departure board. As for the EWEC, I would be satisfied to see a Danang-Savannakhet train.
News
Cambodia
Cambodia Plans Improvement of Thailand and Viet Nam Border Gate Facilities
"Cambodia's border crossing points with Thailand and Vietnam are crowded with traffic of cross-border transport and tourists. The country wants to develop the necessary infrastructure to manage this traffic flow to ease cross-border transport and boost trade activities."
Indonesia
Indonesia's new capital in the Bornean jungle on hold amid COVID-19 crisis
"The Indonesian government's plan to relocate the country's capital from Java to Borneo has hit a wall amid the COVID-19 pandemic, with a top official saying they would "evaluate it or something" after the crisis passes."
Maybe it won't be built after all.
Japan
Japan's invisible problem: enough empty homes to house Hong Kong and no known owners
"In Japan, ownership of an area of land the size of Taiwan is a mystery, and it's causing problems for disaster relief programmes.
Falling land values, tax quirks and patchy registration have left 3.5 million unoccupied residences, and an ageing population will make things worse."
Related, I enjoyed this article about buying an apartment in Tokyo.
Philippines
'Build Build Build' to help restart Philippine economy: NEDA chief Chua
"President Rodrigo Duterte's P8 trillion infrastructure program will be an "important part" of the Philippines' recovery from the COVID-19 pandemic, his new socioeconomic planning chief said Tuesday."
Duterte open to dropping infrastructure projects for more COVID-19 funding
"The government plans to spend over ₱1 trillion this year on various construction projects, in keeping with the administration's promise to usher in a "Golden Age of Infrastructure" and fill the country's needs for longer and wider roads, convenient train systems, and bigger airports and seaports, to name a few.
But that plan may now be shelved with the COVID-19 pandemic wreaking havoc on the local and global economy."
Going back to my preamble about governments needing to spend their way out of a recession, the Philippines are sending mixed messages here.
Taiwan
"Core Pacific City was an architectural oddity, tucked into an unfashionable part of Taipei. Still, the shopping center – now being razed – always had its admirers."
I'm sad I never visited this!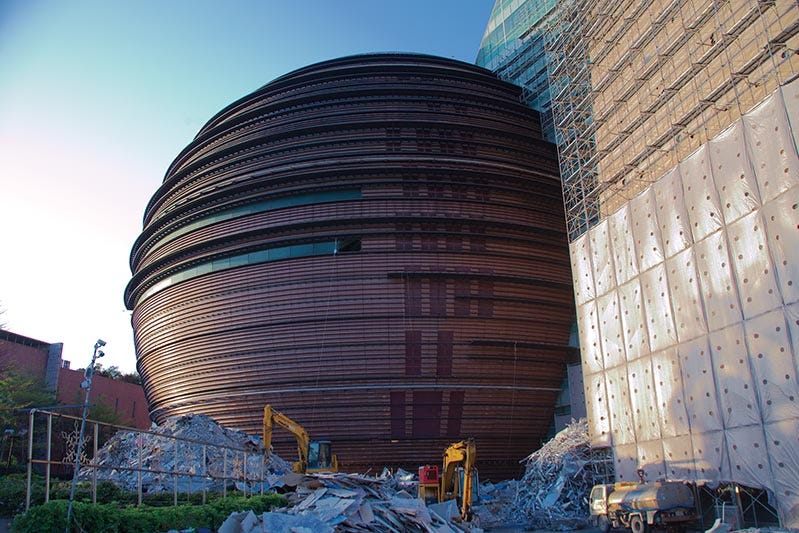 Thailand
33 hours for southeast Asia's "biggest continuous foundation pour, ever"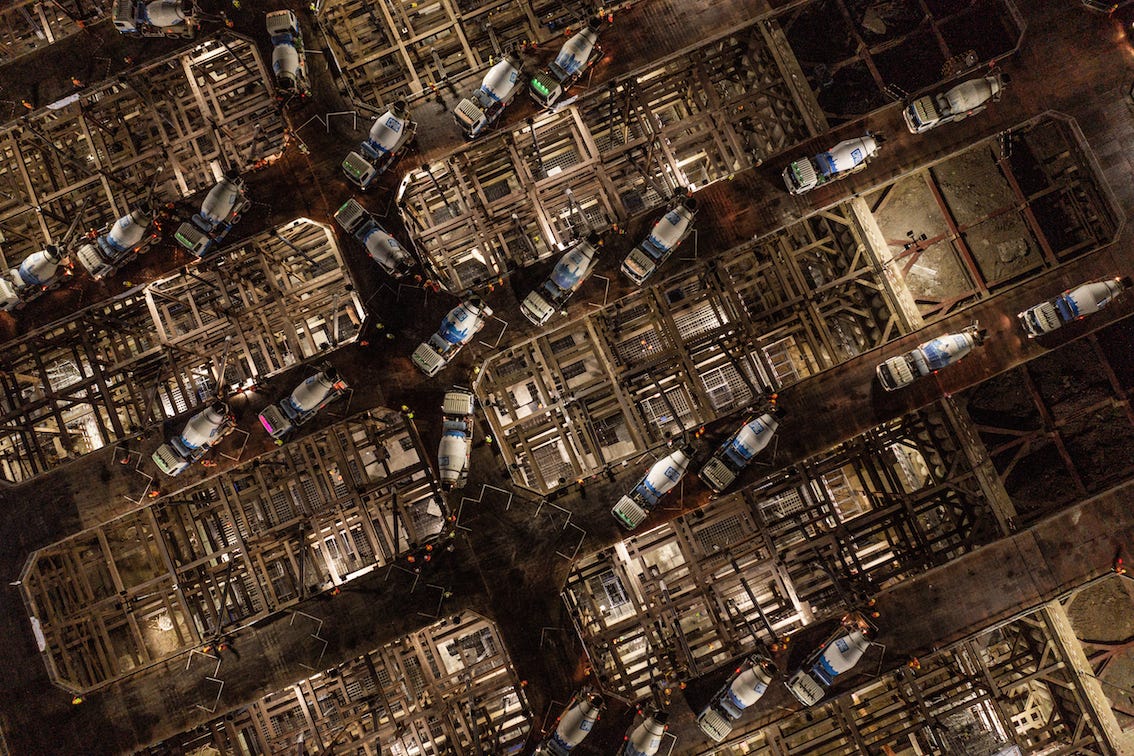 "In all, 547 trucks delivered 23,725 cubic metres of concrete over 33 and a quarter hours to make the 4.5-metre-deep raft foundation in February."
This gargantuan amount of concrete was for the One Bangkok project near Lumphini Park.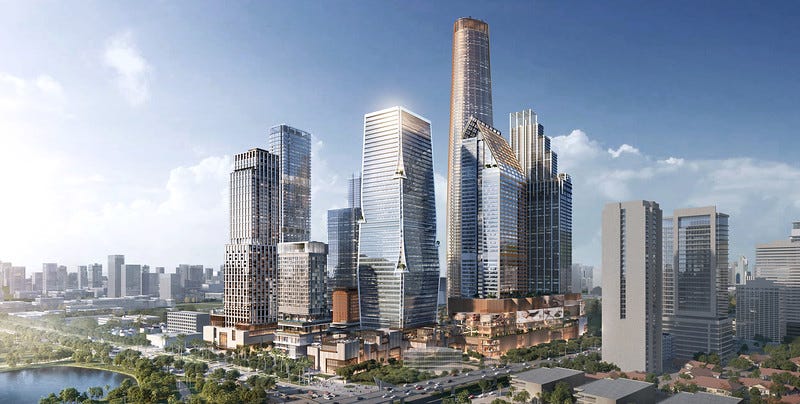 [One Bangkok.]
Four new BTS stations ready to open in June
"Test runs to four new BTS Skytrain stations beyond Kasetsart University station (N13) have started since April 8, Manit Techa-apichoke, president of the Bangkok Metropolitan Administration-owned Krungthep Thanakhom Co, said."
Bangkok mansion, city's oldest private residence, still owned by family that built it 200 years ago, who say 'Selling it would be like selling out'
"The roof leaks, floorboards are loose and pillars cracked in the 19th century Hokkien-style house that's been in the Posayachinda family for eight generations.
To the Sino-Thai family their riverside home is a burden but also a privilege. They turned down US$64 million for it, despite lacking the funds to renovate it."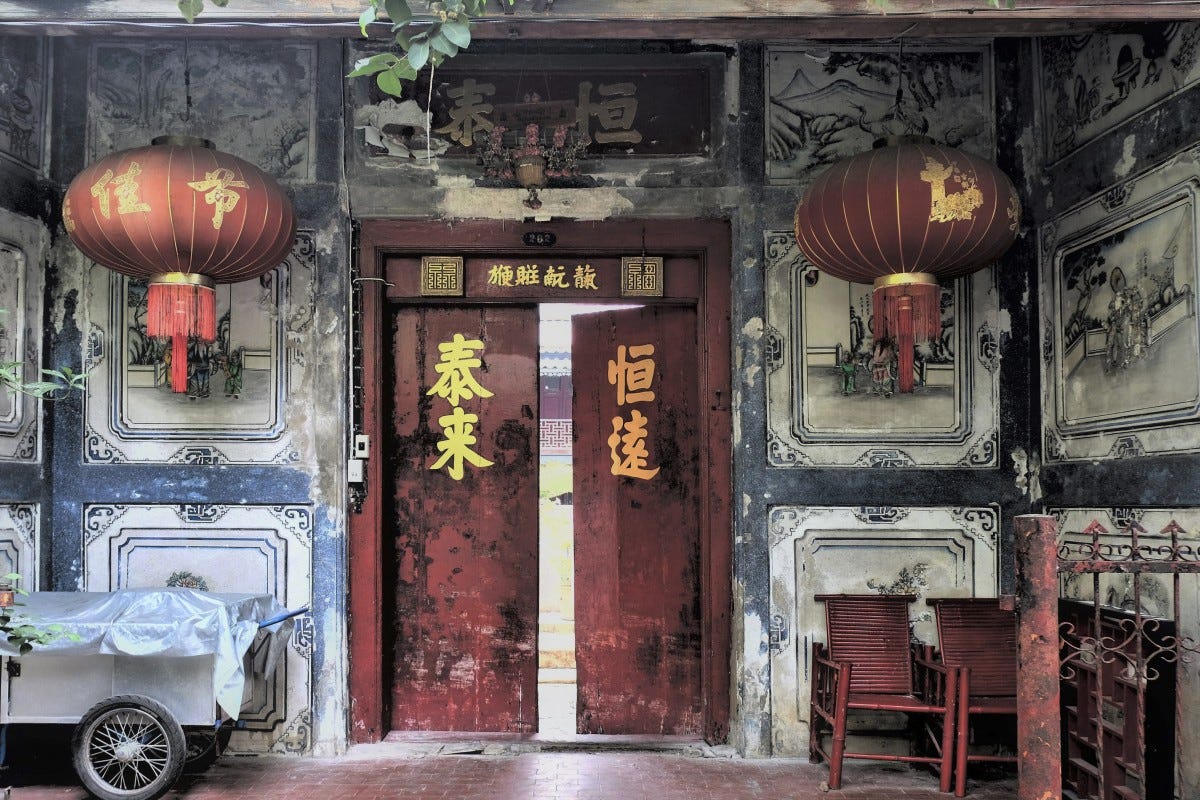 Here is Pattaya in lockdown mode.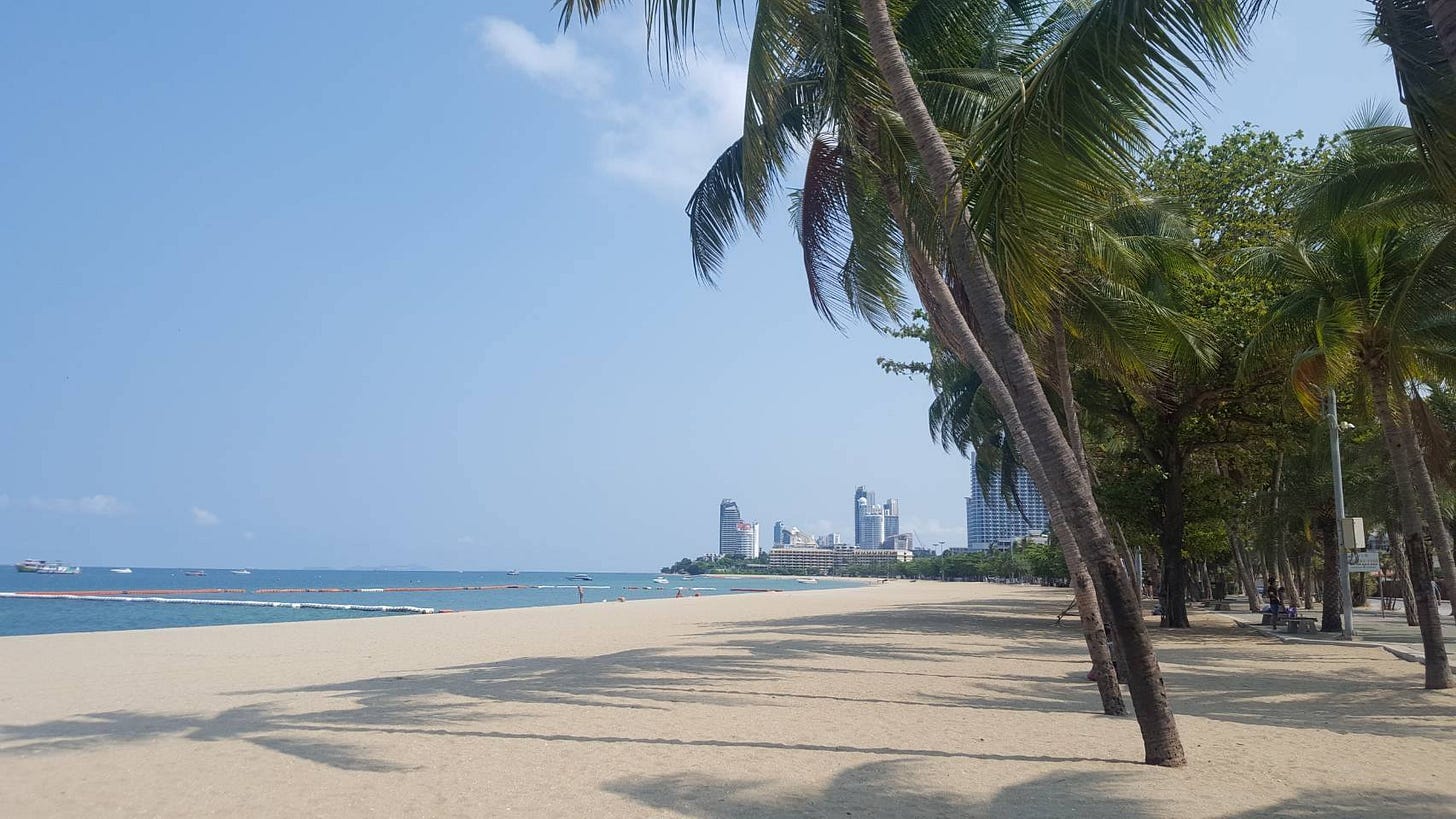 [photo source.]
Vietnam
HCM City speeds up Metro 2 project ground clearance
"The HCM City authorities are speeding compensation in order to start the Metro Line 2 Project in October."
Work on Long Thanh Airport can begin in May 2021: ACV
"Construction of the Long Thanh International Airport in the southern province of Dong Nai can start May 2021 and finish late 2025, Airports Corporation of Vietnam said."
The second metro line and new airport have been delayed by years, so if they were both under construction in 2021 it would be a remarkable feat.
I've been posting updates about the HCMC Metro, but lets not forget that Hanoi is also building its first metro. The first line was meant to be finished by now, but it has faced continual delays.
They have a good Twitter account that posts construction updates.
Also in Hanoi I found these articles from last month about mosaic manhole covers that are popping up around the city. Here are some more photos.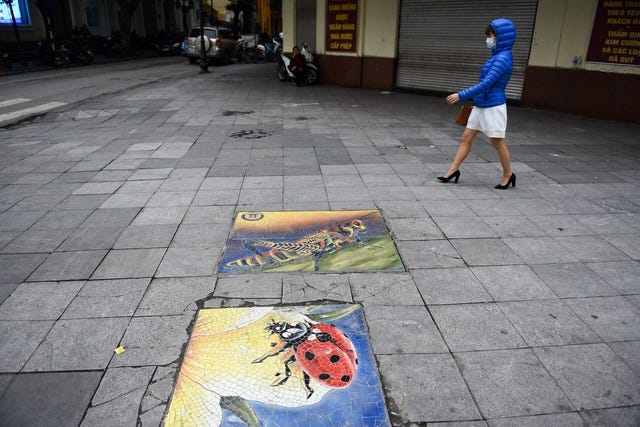 [Photo from dtinews.vn.]
It doesn't take much to turn an ordinary object into a thing of beauty. Sometimes cities can become known for little details.
This reminds me of the ornamental manhole covers in Japan. There are Facebook groups and Instagram accounts dedicated to Japanese manhole covers, and it's the sort of thing I actively seek out.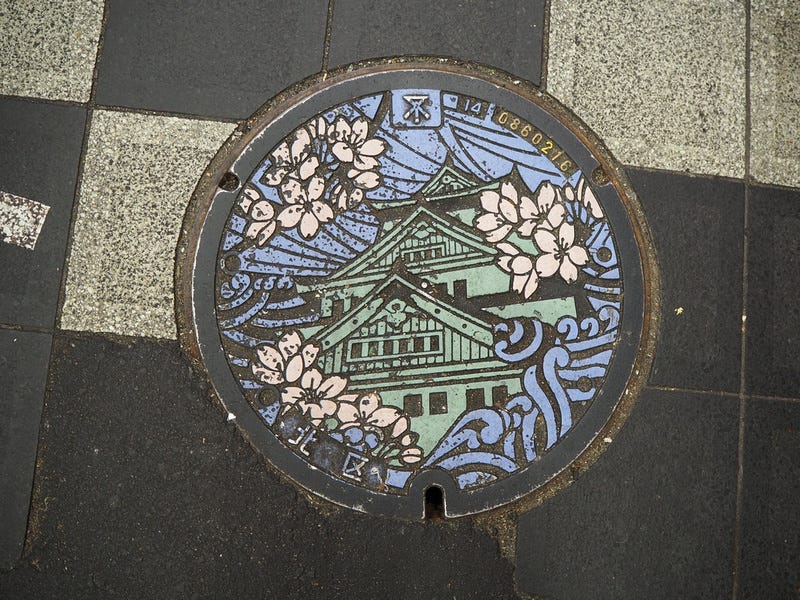 [Manhole cover in Osaka. Photo via Notes on Osaka.]
I will look for these manholes on my next visit to Hanoi.
I haven't posted anything about Hanoi on this site yet. I've visited every year for the last five years, but I still find myself getting lost in the old city. I would need to spend a few weeks there to visit the outlying areas and get a feel for what is happening along the metro lines.
Newsletter Notes
That's it for this week. I'll be working my way through more routes of Southeast Asia in the coming weeks, as well as continuing the Future Asia series.