Discover more from Future Southeast Asia
Transport and urban development in Southeast Asia. Dispatches from my travels in the region, and news about future city development, transport, and infrastructure.
Vientiane construction report and future projects
Australian Aid in Southeast Asia, Penang LRT planning continues, delays (again!) for the 2nd HCMC metro line, and more construction and transport news in SE Asia.
Greetings from Bangkok. I returned to Thailand from Laos via the First Thai–Lao Friendship Bridge. This bridge opened in 1994, and it was funded by the Australian government as development aid for Laos. I was reminded of this fact by a sign at the bus park while waiting to cross the bridge.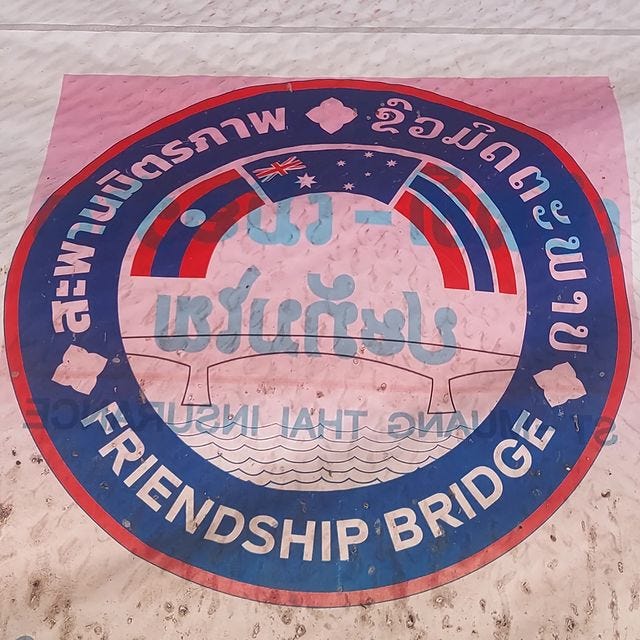 Development aid and Australia in Southeast Asia are subjects I have been thinking about this week. Australia elected a new government last month, and the new foreign minister has been travelling around Asia Pacific to strengthen ties with our neighbours.
Penny Wong was born in Malaysia, and she is leaning into her heritage of being a Southeast Asian-Australian while on her first official visit to the region.
The Australian government said it would increase spending in the region, so we shall see if that converts into infrastructure projects that will be featured on this site.
For the record, the largest overseas assistance project undertaken by the Australian government was the Mỹ Thuận Bridge in the Mekong Delta.
As an Australian, I always notice when there is a project by Australian Aid. It's hard to miss I suppose with a logo that jumps out at you like this…
In Vientiane, the most prominent aid logo is now from China.
This week's posts are two articles about Vientiane. The Vientiane construction update includes a big hospital project funded by China Aid, in addition to some new hotels being built in the capital.
I also created a new page for the That Luang SEZ project in Vientiane. This project was in the news last year for its controversial plan for a 100-metre high Buddha statue. The images of what they have planned for this area reminded me of West Lake in Hangzhou, China.
Latest Posts At Future Southeast Asia
Vientiane construction update – 2022 edition
That Luang Lake SEZ – Vientiane Laos
This is what Vientiane might look like in 2030…
• In addition to these new posts, I have also updated the Future Vientiane page.
News
• Japan's economic clout wanes in Southeast Asia
• The luxury of Asia's malls is no substitute for genuine public spaces
🇰🇭 Cambodia
• High hopes for new Siem Reap International Airport by 2023
• US seeks to step into Cambodia's transport infrastructure
🇮🇩 Indonesia
• Manggarai Station serves long-distance trains, Gambir is functioned for riding and dropping KRL passengers
• Jokowi gathers state ministers; new capital project starts second half of 2022
[Updated: Nusantara – New Capital City of Indonesia]
• Kotabaru will be leading tourist spot near IKN Nusantara: minister
• Ministry reviews Bali airport renovation for G20 Summit
🇱🇦 Laos
• Perfect storm of turbulence for indebted little Laos
🇲🇾 Malaysia
[Updated: Bayan Lepas LRT]
• PM to open first phase of Putrajaya MRT on June 16
• ECRL station at Puncak Alam approved, says Tengku Zafrul
[Updated: East Coast Rail Link]
• Is Penang three-island reclamation land for 'outsiders'? Backbencher asks state
[Updated: Penang South Islands]
• Official: Penang undersea tunnel report to be merged with container terminal expansion blueprint
• Work begins on S'wak-Sabah highway that bypasses Brunei
• Life in a half-done township
"The story of the Lembah Beringin township which earned the reputation of being "one of the worst failed developments in Selangor" is far from over."
• Historic Fort Cornwallis in Penang revived to former glory
🇵🇭 Philippines
"The Mindanao Railway Project (MRP) and three more rail projects in the pipeline will likely be pursued by the next administration, according to Department of Transportation."
• Cebu Landmasters targets 21 projects worth P31.5B
🇸🇬 Singapore
• KPF designs new sustainable Singapore landmark for Singtel and Lendlease
• In space-crunched Singapore, homes on private plots of land are the ultimate trophy. Take a look inside one of these 'good class bungalows,' recently listed for $64.2 million.
🇹🇭 Thailand
• SRT Red Line sees daily traffic hit new heights
• BMA authorised to manage troubled Green Line BTS train system – Interior Minister
• Proceed with caution: high-speed rail for Bangkok and Kuala Lumpur
[Updated: Bangkok - Kuala Lumpur High-Speed Railway]
🇹🇱 Timor-Leste
• Wang Yi: China ready to make BRI cooperation plan with Timor-Leste
🇻🇳 Vietnam
• Poor urban development cause of flooding, congestion in HCM City: experts
• Ho Chi Minh City to build 104 anti-flooding reservoirs
• HCMC's 2nd metro construction delayed as consultant quits
• Heavy rain leaves residents traveling by boat for 10 days in Hanoi neighborhood